Overview of Porta+ FTP Client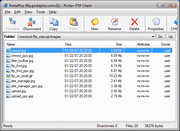 What is Porta+ FTP Client?
Porta+ FTP Client is a File Transfer Protocol Client, which gives you a fast, easy and reliable way to transfer files and directories between an FTP server and your local computer. Whether you are a professional web designer, or simply maintaining your personal page in the Internet, the Porta+ FTP Client will be a vital tool for you for managing your website.
By using Porta+ FTP Client, you can upload files from your computer to a web server by simply dragging these files from Windows Explorer into the Porta+ FTP Client window. Downloading files is also as simple as dragging files from Porta+ FTP Client into Windows Explorer.
If you need to move some files from one directory on your FTP server into another on the same server, you can do it directly on the server, leaving no need to temporary download these files onto your local computer, and then upload them back into FTP server. This can be important if you are connected to the Internet from your Pocket PC via a mobile phone.
Using the built-in search function of Porta+ FTP Client, you can quickly and easily find a file or directory directly on your FTP server.
By turning on the built in Filter, you can set the program to show only the files that you are working with at that moment, and free the screen from unnecessary information. This is useful if you have large number of files on your FTP directories.
---
Table of Contents
<< Back to FTP Client Home Page