Porta+
Private Notes v4.5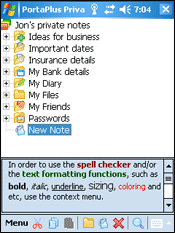 Passwords, logins, credit cards, private plans, ideas and thoughts - organize and securely store all of your important information in strongly encrypted and easy to access place.
With all your information in one place, strongly secure, and readily accessible, Porta+ PrivateNotes will help you stay organized and on top of things.
With Porta+ Private Notes you can create different database files for different kinds of information that you want to store. For example, you can create one database file to keep your passwords, one for storing your ideas and thoughts, one for your diary, and etc.
Porta+ PrivateNotes has two versions; one for your personal computer and one for your mobile device. You can use your personal computer to quickly edit your notes when you are at home, and your mobile device for viewing and editing notes when you are at work or on a trip.
Click here
to read how you can use the Microsoft ActiveSync to keep your Pocket PC files synchronized with a personal computer.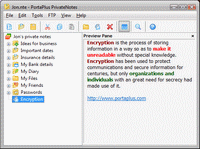 Porta+ PrivateNotes Benefits and Features
:

US Government level Rijndael encryption method with 256 bit encryption keys. The encryption keys are generated from your password using the SHA algorithm (very secure).

Rich text formatting features like
bold
,
italic
,
underline
,
sizing
,
coloring
and etc.

A built-in spell checker.

Supports unlimited number of databases. Each database is a single file which can be stored in its own location and protected by an individual password.

The ability to attach files to the notes. Attached files are encrypted and saved together with your notes in the same database file.

The ability to put hyperlinks in the notes. Links can be opened directly from the program.

The ability to set an individual icon for every folder and note.

A preview pane, that enables you to view the contents of your files simply by browsing through the notes.

16 pre-installed templates for notes (such as Credit Card info, Web Site login, Passport details, etc.), with the ability to create your own templates or modify the existing ones.

For every note, the date and time when you created and/or modified it is automatically recorded.

A built-in anti-keylogger keyboard, that prevents the logging of your Porta+ PrivateNotes database master passwords.

A built-in FTP Manager that allows you to save backup copies of your important Porta+ PrivateNotes database files on your Web server (via a GPRS or a Wi-Fi connection). You can also manually synchronize your database files with a desktop computer or another mobile device by using this feature.
By purchasing Porta+ PrivateNotes you will get both; mobile and desktop versions in one package. You can use the same serial number for both versions, leaving no need to purchase two separate licenses.

Buy Porta+ Private Notes starting at $14.95
Free one year program upgrades, even major new releases
30-day money-back guarantee


Download Porta+ Private Notes 14-day Trial Version
Pocket PC 2003 or Windows Mobile 5.0 ARM
Microsoft Windows 2000/XP/Vista